Nexus - A W3GS Client
Adapted from Ribose's Nuke script. He wrote most of it so he deserves most credit for this script.
Author:
Neco
Version:
v1.074 - Public Beta
Requirements:
W3XP, if you try with any other client you run the risk of being banned.
Description:
Allows users with a Warcraft III TFT bot to connect to games in the lobby and chat to users within that lobby.
Notes:
While in the game lobby, the bot remains in the channel so you do not lose designation and can still talk to users in the channel.


This bot works by pretending to have the map, so having the map is not required. In future versions, hopefully I will get a map download option.


The purpose of this release is to find bugs with what I have now. If you find any, please reply in this post so I can improve / fix it.


There seems to be an problem with joining user-created games. This is due to a slot request and I'm working on it.


This client cannot actually be inside a game. There are fail-safes that exit the bot when a countdown starts.


USE THIS SCRIPT AT YOUR OWN RISK, BECAUSE IT DEALS WITH PACKETS YOU CAN BE IPBANNED. THIS SHOULD NOT HAPPEN BUT IT IS POSSIBLE.

Yes, I realise the scripting is in a really horrible way, but I'm getting there.
Script Usage
How to open the IU

This opens the UI, which is the only way to view the scripts actions.
The Interface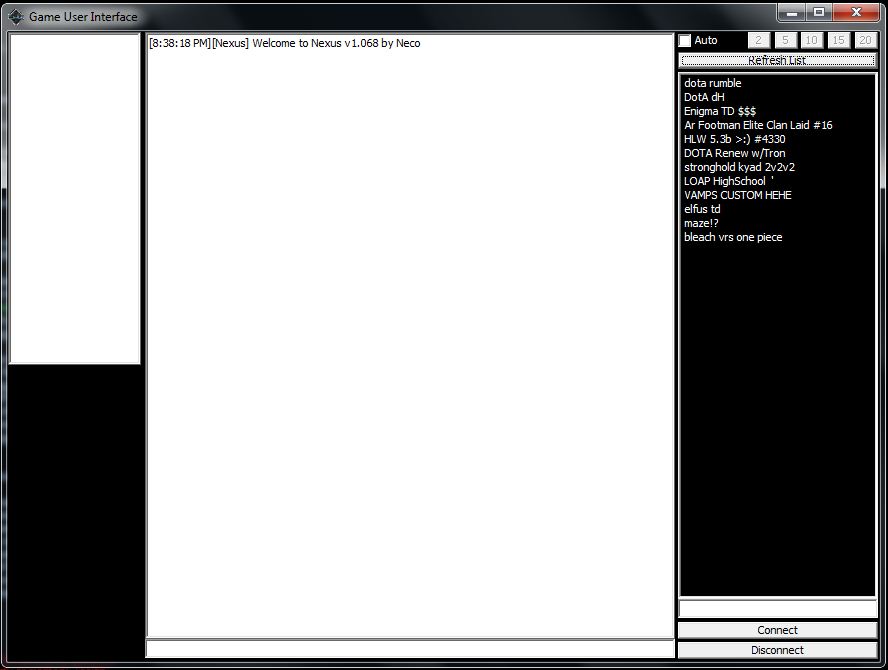 The panel to the left will show lobby information, player colors and teams. Currently, it just shows the ID of players in the lobby.
The central console is where all the actions are displayed.
The chatbar, located under the central console, is where you type messages to send to others in the game lobby. You can use any Stealthbot internal command in this box, but the result will show on the Stealthbot console.
The panel to the right is the game list. You can set the list to autorefresh at certain intervals, or click "Refresh List" to clear the old list and replace it. To connect to a game, simply double-click the item on the list, or enter a gamename in the textbox located underneath the game list.
To disconnect from a game, hit the "Disconnect" button.
Version:
v1.075 - Public Beta
Changes:
Added the "/cls" command for oblivious. I might add a button for it later. To use, just type "/cls" in the game console window.

Removed "[Nexus]" from the AddGChat sub.

Fixed the error that you would get if you tried to minimize the window.

Messed around with the REQUESTJOIN packet. Its still not completely working but now some games created by users are accepting the bot.
New Download
Nexus (2).txt
(57.62K)
Number of downloads: 216
This post has been edited by The-Black-Ninja: February 08, 2010 - 05:40 AM